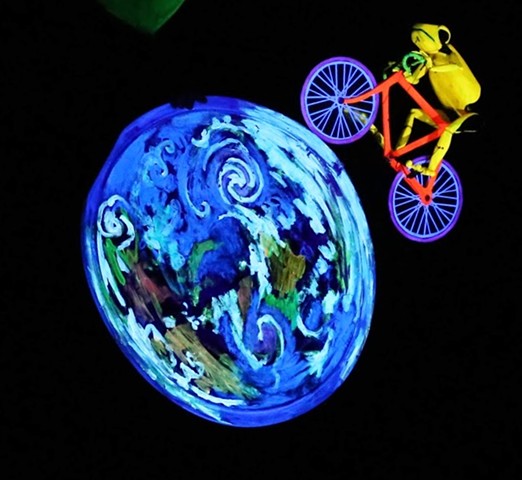 The Summer double feature puppet show were amazing!
Thank you Sauganash Park,
23rd Oakdale Park and
26th LeClaire Park
Peggy Notebaert Nature Museum on Aug 15th was beautiful! Thank you everyone who came out!!!
CliCK on PorTFolio for lots of Puppet Photos and stories.
Look for us at our YouTube channel and Subscribe!
We miss you everyone!
Here's are info:
JABBerwocky Marionettes
Lolly Extract - Artistic Director/ Designer
Amber Marsh - Artistic Director/ Designer
Dan Agosto - Musical Director/ Composer
Puppet Theater performances with puppets:
Marionettes are where it's at for us. We use marionettes all the time in every show. But we love all types of puppets and have specialized in Shadow Puppets, Hand puppets, Rod puppets, Bunraku type Puppets, Body Puppets and Giant Parade Puppets and Giant Lantern Parasdde Puppets. . Amber and I make and design everything. Handmade uniquely crafted puppets and amazing scenic pieces by Amber. We 're very fortunate to work with the Chicago musician and composer, Dan Agosto so our music is original too.
Jabberwocky brings the puppet theater to life.
Jabberwocky Productions also designs and creates custom designs for museums, film, commercial and theatrical companies.
Jabberwocky Puppet Show Menu:
The Puppet and AWhale Tale
Adventures of the Dart Frog Band
Cosmic Puppet Show - fantastical
The Jabberwocky Puppet Show
Spider Puppet Dance Performance
Geology, starring Giant T-Rex Puppet
A Winter Puppet Show - magical
Travel, The Dart Frog Band World Tour
The Last Dragon Fighter - friendships
The Halloween Puppet Show - fun not scary
Roaming Puppets - Giant Puppets, Body Puppets, Marionettes and Puppets - Giant Lantern Tiger Puppet, Giant T-Rex and Giant Lantern Spider with glowing baby spiders


To Book a Performance or Custom Puppet Project
Contact Us
773-573-6885                  
jabberwockypuppets@gmail.com
*Puppet Performances and annual events
Members' Night for over 20 years with The Field Museum
Peggy Notebaert Nature Museum - Nov 2019
The Chicago Park District, NOITP - 2018 and 2019
Arts In The Dark - Halloween Parade 2017 and 2019
Rembrandt Chamber Players The Little Fox 2016
Chicago Public Library Foundation - Summer and Winter Tour 2015,2016,2017
1st Cultural Halloween Parade with The Field Museum 2015 and 2016
CirEsteem project - Giant Parade Lantern Tiger Puppet
Chicago International Puppetry Arts Festival 2015 & 2017
*The 2015 Chicago International Puppet Festival - 2015 and 2017
Jabberwocky Marionettes hosted and performed at The Field Museum and 2017
'Seussical The Musical' with Chicago Shakespeare Theater 2015
'A Charlie Brown Christmas' with Emerald City Theatre 2016
The Field Museum - 'Roaming Puppets' for Members' Night, annually since 2000
The Odd Machine - Stop-motion Animation Commercials for Telly Award Winning MiniAbe Series, Illinois Office of Tourism, Stop Motion Commerials for Ameren
more performances:
Bennington College, Vermont - Sunfest and Moonfest 2015
Chicago Shakespeare Theater - Suessical The Musical - Puppet Design and Production 2015
Art Institute of Chicago - Magritte Opening with Surreal Roaming Puppets
Puppet Performances with Aloft's El Circo Cheapo
Chicago Costume - Giant Store Front Mural and past Window Displays
Links Hall, Nasty Brutish Short, Puppet Cabaret
Hell In A Handbag Productions - (several productions) including, The Birds, and Caged Dames, 2007 - 2016
The John G Shedd Aquarium - Education Department and Promotions Department with Parade Puppets 2004 - 2009
Chicago Library Tours -(several tours) 2015, 2016, 2017
Alien Queen - Puppet Designer Alien Puppets
Music Puppet Video with Victory Records - The Bunny, The Bear
Walter E Smithe Furniture Commercial - 'Sale That Rocks' marionettes
The Lyric Opera of Chicago - Artistic Actor 'The Ring Cycle'
Hystopolis Productions - 'The Adding Machine' , 'Ubu Roi' and an original play written by Lon Extract, 'Dracula, The Puppet Show'
Summer Festivals - Taste of Lincoln Ave and all over Chicago
The Mayor's Office Of Special Events - Taste of Chicago
Co-Author of 'Julie Taymor, Art on Stage and Screen'
12th Chicago Critcal Mass Bike Art Show 2009 - 'Bike Love', 'Infinite Cycle' and 'Return of Quetzalcoatl' with live, original music by fAbrics
Columbia College, The Seldoms Dance Company- 'The Waning Tree' and 'Falling Man's Dreams'
Lots more endlessly amazing private puppet performances and projects. Jabberwocky thanks the many artists, museums and companies we have partnered with and continue to have the honor and pleasure of working with.